The Broncos return home this week for the last stretch of football for the year. In the previous 5 weeks they have gone UNDEFEATED for the first time in years and are on the cusp of grabbing a playoff spot. Over the next four weeks 3 of those 4 games are played at home at Mile High. This week is one of those three games as the Bears come to town to play. As it happens the Broncos are on the rise, where as the Bears are the opposite and trying to prevent a downward spiral. They have lost their starting punk QB (luckily for him, VonDOOOOOOOM!) and their electric starting RB Matt Forte (there goes my fantasy team :P). As such they have Hanie and Barber filling in those spots. Hanie is an talented and athletic QB but with little game time. Barber is an old bruiser that is in the twilight years of his career. Some believe they will be lucky to win another game this year.
The Broncos however are now favorites in almost all of their remaining games. The problem is can they held the tag of favorites? They have won most of their games on the road with a QB many believe can't play the position giving them the ultimate underdog tag. This view has changed, in my opinion, in the last week since the Broncos are now a top of the AFC West division. People and other teams now know we are for real. Even if we do it in an weird or unorthodox fashion, we still win games. Other teams look at our defense and now see an formidable opponent (which we know has weaknesses and can be beaten).
I worry that the Broncos don't come out firing, they come out cold and can't beat a struggling Bears team. It almost happened against the Vikings, a team that we were meant to beat easily. We only won because Tebow figured out 2+2 = 88 and hit up D-Thomas. I worry that we may underestimate a Bears team that has a very good defense. Urlacher, Briggs, Peppers to name a few. This is a Bears team that was built for the playoffs until it lost its QB. I expect this to be a low scoring affair with the better defense getting the win. Both team's offenses may not even score some points.
The Broncos are now in a position that many have never been before, the cusp of greatness. It will take some of our veteran players to keep this team grounded and on track. Onto the preview.
Why to watch
This was supposed to be a homecoming for Jay Cutler, but now it's Caleb Hanie against Tebow Time. While Hanie has thrown six picks in two starts, Tebow has thrown one all year. Denver is on a 6-1 run while the Bears are sliding outside of the playoff picture with Matt Forte now out, too.
Inside story
One would imagine the Broncos run plenty of read-option stuff at Julius Peppers and try to keep him off Tebow's back. Von Miller could be back for the Broncos, and Hanie has been sacked 11 times in two starts.
Match Ups:
The Key for me in this game is Special Teams versus Hester. Hester has destroyed us in the return game before and has turned games completely against us. We will need to shut him down and not allow good field position. I am looking at you Colquitt, time to earn your paycheck. This goes for Knox as well.
Otherwise this is a defense battle. For our D we have to limit Hester, Knox and Bennett. Each can do something's in space and pick up yards. The Bears would have watched what the Vikings did to get Harvin in the open and will try to repeat that with Hester. Goodman you better play well. I also hope we activate Moore for this game, McCarthy is a special teamer ONLY. Our coverage should be better anyway as Miller should play in this game. Meaning we probably only send 4 allowing us to drop more guys in coverage.
Also don't sleep on Roy Williams. When he is on he can be unstoppable but just send DJ at him and we should be sweet as.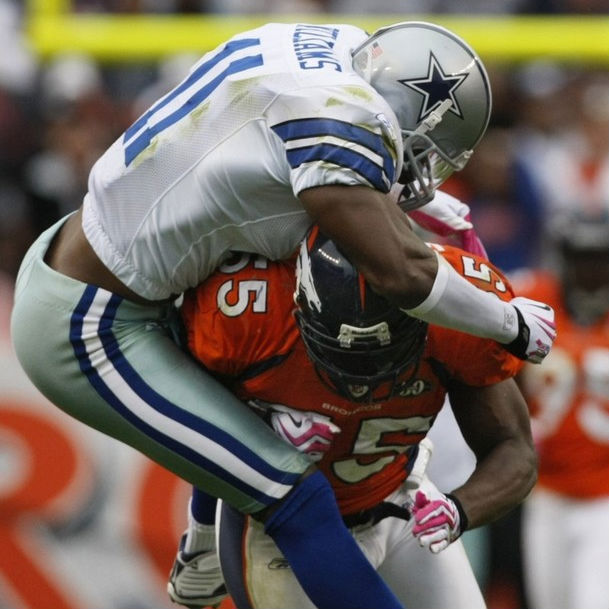 I am not worried about our pass rush, the turnstile that is the Bears O-Line will struggle to protect Miller and Doom. Which should benefit the others along the line. But I am a little worried about the run defense. Mays it is time to step up and make some plays in the run game because Barber only goes one way and that is down hill. Our middle should be solid but we need to limit the conversions on 3rd down which Barber is a specialist at.
For our offense I think we will probably go run heavy. Hopefully Clady's knee is OK because he going up against Peppers who is one of the most talented DE....ever. If I was the Bears I would flip flop Peppers and have him take on Franklin too because I think he would probably school the rookie.
The secondary for the Bears is pretty good (player wise, though they have struggled recently). Meriweather is a player I really like, he has his limitations but he can make the big plays when needed. Tillman and Jennings are solid corners and Wright is a young safety that has impressed so far. Therefore don't expect wide open receivers like last week, tight windows will be the norm. It will be on McCoy to use his receivers to create space for completions and with a group that has DT, Decker, Willis, JT, maybe Royal as well as others (Larsen!) we have more than enough weapons to cause problems for the Bears secondary.
But I expect a heavy dose of the run. Which on the Bears is not an easy thing too do. Urlacher and Briggs are two of the biggest LBs in the last decade and know how to find the football. It will be interesting to see if we use the option and whether Tebow finds any space.
If McGahee goes down, if his knee plays up, we should go the pass. We have the weapons so use them. That means Tebow will need to step up.
Speaking of Tebow what do I expect from him this week. Last week in the preview I said "I ask for 10 or more completions and a 50% completion rate." And of course Tebow delivered. This week I am going to set Tebow a challenge, I ask for 15! completions and a 50% completion rate, lets see if you can do that. Also I expect this week Tebow throws an intercept.
Prediction:
With everything I have read and looked at I think this game should be really close. If we get on a roll early and play with good field position we may put up 30 points but I doubt it. Like I said this one is on the defense. I am feeling a 13-10 score with both teams getting a touchdown not by their offenses. I am thinking a Bailey pick six and a Hester kick return for TD as the points scored. Prater kicks the remaining points with the last field goal in the final two minutes of the game. How is that for a detailed prediction.
Injury Report:
Eddie Royal (WR), Concussion, DNP
Ryan Clady (LT), Knee, Limited
Willis McGahee (RB), Knee, DNP
David Bruton (S), Achilles, Limited
Von Miller (LB), Thumb, Limited
Jeremiah Johnson (RB), Ankle, Full
Mitch Unrein (DE), Lower Back, Full
Quinton Carter (S), Cramps, Full
CHICAGO BEARS
Jay Cutler (QB), Thumb, Out
Matt Forte (RB), Knee, DNP
Major Wright (S), Shoulder, DNP
Anthony Adams (DT), Back, Full
Charles Tillman (CB), Quad, Full
Brian Urlacher (LB), Quad, Full
Henry Melton (DL), Knee, --
Every Bronco player should play except maybe Royal. It depends if he passes his concussion tests or not.
Other News:
Tickets to Broncos games have skyrocketed
, is this because of Tebow or because the Broncos are winning.
Ladies:
As always lets check out the ladies of our opposition. I am thinking of making this a regularly feature in the preview unless there is any objections?
Jokes:
Anybody know any good Chicago Bears jokes?
You mean other than their current team?
Funny Youtube:
Saw this and thought it was funny.
Well that is it from me, enjoy your weekends and Go Broncos ~ Aussie.