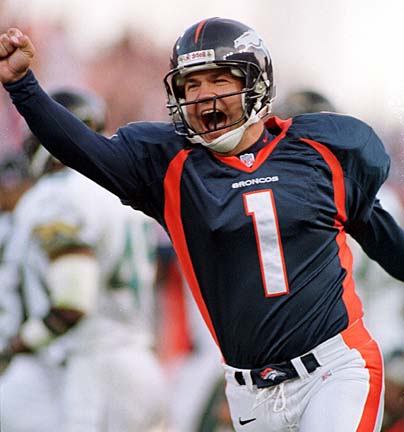 Kicker Jason Elam will retire as a member of the Broncos today. Elam will sign a one-day contract with the team so he can technically be a member of the Broncos when he files his retirement papers with the NFL after 17 seasons, the first 15 in Denver. In what is a very classy move by the Broncos and a classy life-time Bronco Jason Elam. Jason Elam in my mind is one, if not the best kicker of all time. He is defiantly the best kicker of the last two decades and one of the most consistent.
Elam
began
his football career in
Brookwood
High School, a powerhouse in
Snellville
, Georgia, and lettered in football, swimming and track. In football, he was a first-team All-County honoree and a second-team All-State.
Elam then went on to join the University of Hawaii for four years as the placekicker. Elam scored the third-most points in NCAA history (397) and tied for the second-most field goals kicked (79). He is the all-time leading scorer in the Western Athletic Conference and was a three-time All-WAC selection. Elam also majored in communications while at Hawaii.
Elam was drafted out of the University of Hawaii by the Broncos in the third round (70
th
pick overall) of the 1993 NFL Draft. No player in NFL history has scored more points for one team than Elam has with the Denver Broncos. He also holds NFL records for best extra point conversion percentage (.995), most consecutive seasons with at least 100 points (15), most seasons with at least 100 points (15), fastest to 300 successful field goals, fastest to 1,600 points and fastest to 1,700 points. Furthermore, Elam was the first player in NFL history to score at least 200 points against three or more teams (San Diego Chargers: 222, Oakland Raiders: 215, Kansas City Chiefs: 203). Elam shares a record with Steve Christie for the most overtime field goals; 9. Elam was named to the Denver Broncos 50
th
Anniversary Team in 2009.
For a complete Player History on Jason Elam's career check out his
history at

wikipedia
.
Elam was one of Denver owner Pat
Bowlen
's favorite players. He was known as a clutch player on the field and as a leader in the locker room and in the community.
Unfortunately
Elam couldn't spend his entire career here, he had a little left in the tank and
Shanny
couldn't offer him as much as the Falcons, but he wanted to keep him around but he could see him fading. So he signed with the Atlanta
Faclons
after the 2007 season. He spent the 2008 season with them and did
ok
. In 2009 he wasn't as good and Elam was waived on December 1, 2009. The Falcons then signed kicker Matt Bryant. Elam was only 8 for 15 in field goals over 30 yards, which led to his release. But he will sign a one day deal today and retire as a Bronco in the home he loves.
Elam retires with 1,983 points and ranks fifth in made field goals (436) and fourth in
PATs
(675).
Elam was part of two Super Bowl champion teams in Denver and tied an NFL record by hitting a 63-yard field goal (really 63 and a 1/2 yards everyone rounds it, he should be the sole owner of the record). He played in 236 games for the Broncos, more than any other player, and was part of 152 victories —
second only to John

Elway

in team history.
Elam played with the Broncos from 1993 to 2007, tied with Tom
Nalen
for the second-most seasons in team history behind John
Elway
.
Elam has a wife (
Tamy
- former Broncos cheerleader), two sons (Jason, Jr. and Joshua Matthew) and two daughters (Jordan Noel and Julianna). Elam has also co-wrote a few books about a football player that fights
terrorism
, now that is pretty cool.
Some have been saying that Elam should kick extra points and make it to 2000 points, that would be cool but I doubt it happening. I would love to see him reach 2000 points and would happily try to get it done but it would take a roster spot that we may need. But if we have a spare spot *cough* Jarvis Moss *cough* then get it done
McD
, 2000 for ELAM!
Bowlen
had this to say about Elam:
"When it's all said and done, he will be remembered as one of the greatest Broncos and a player whose career achievements redefined the importance of his position," Broncos president and CEO Pat
Bowlen
said in a statement released by the team Tuesday. "Without question, he is a Ring of
Famer
who deserves strong consideration for induction into the Pro Football Hall of Fame."
Elam will be eligible to be inducted into the Broncos Ring of Fame in 2015. And I hope he will be elected into the Pro Football Hall of Fame soon after. He is a great person and a great player.
So that is a big Mile High Salute to Jason Elam! ~ Aussie Out!
Sources: ESPN.com, NFL.com, Wiki.com and Denverpost.com
This was said at the Press Conference today:
"As I look back on Jason's career it really registered with me today that we were going to have this retirement ceremony and I really get emotional about it because when I think of all the games we won and Jason being a huge part of those wins, it really touches my heart," Broncos owner Pat Bowle said today in remarks distributed by the team. "Jason was everything you want in a player, everything you'd want in a kicker. He's definitely going into the Ring of Fame. I think he is a Hall of Famer, but kickers getting into the Hall of Fame is nearly impossible. I'll try and use some influence if I can to see that he gets there. I believe he deserves it, and I just hope, Jason, that down the road we get another Jason. Because if I could have another 15 years of you that would be, I suppose, as good as I could ever hope for. Thank you."
Added Elam: "I'd like to thank the Broncos so much for putting this together. This gesture is huge. It's huge for me. I am so excited to be able to go out like this. When I came into the league I never could've imagined that it would have lasted 17 years. I was just hoping to catch on with a team. I remember at the University of Hawaii, Mr. Bowlen and myself had some common acquaintances. I remember thinking to myself, 'Wow, I would love to play for Mr. Bowlen. I would love to play for the Denver Broncos.'
"I got the opportunity. On draft day I had no idea they were looking at me. They never tried me out, they never called me, nothing. Then I got a phone call that they had taken me as a third-round pick, and it was just a dream come true. The whole time it's been a dream come true for me. Some people were asking why I was retiring and when you know, you know. I don't think I could do it now, even if I wanted to. I've got so many little issues going on from kicking since I was 13 years old. I just feel like I'm a mess, physically, mentally and emotionally. You just know when you're done. It's been an awesome, awesome journey for me and to go out like this, I just very much appreciate it."
Check out Elam's Video on DenverBroncos.com.