Born on March 26, 1989 in DeSoto, Texas, Von Miller is the oldest of two sons to Von Sr. & Gloria Miller.
Both his parents were athletes in high school and now own a power supply business.
Having grown up near Dallas, Von aspired to be apart of the very much disliked Dallas Cowboys (if you ask me) but was picked up by Denver instead.
How he got there is just as interesting.
Von played high school football for DeSoto High School (just south of Dallas) but it wasn't until his junior year that he really started to make an impact on the team. In his junior year alone, he recorded 37 tackles, 7 sacks, 14 tackles for loss (TFL) and 12 quarterback hurries.
As a senior he was named the District 8-5A Defensive MVP after making 76 tackles, 6 sacks and 14 tackles for loss.
Rivals.com also rated Von as the 29th best prospect in Texas and the 15th best weakside linebacker in the nation.
While in high school he played with 3 other teammates that would eventually end up at Texas A&M University like Von, they include Tony Jerod-Eddie, Cyrus Gray and Garrick Williams.
Von became a freshman defensive end at Texas A&M in 2007 and it didn't take long for him to be a productive part but his real shining moment wouldn't come till two years later.
The Sporting News
named him Freshman All-Big 12, after he posted 22 tackles including 10 solo stops.
In addition, he recorded 2 sacks, 4 TFL and a forced fumble.
He came into his freshman year at 220 pounds (that's a big dude for that age) and was apart of the 4-2-5 defense for the Aggies.
The following semester, Miller got a little off track and when the newly hired coach, Mike Sherman, found out he was skipping classes and failing to produce in practice, he placed Miller on suspension for Spring 2008.
Discouraged and disappointed, Miller nearly quit school and tried to transfer somewhere else but not before his father wisely encouraged Von to stay. Needless to say, Von took his father's words of wisdom and not only stayed in school but adapted a more serious attitude toward his studies and football.
So when his sophomore yea r came around in the Fall 2008 season, he played at weakside linebacker under defensive coach Joe Kines' 4-3 defense. Von played in all 12 games and posted 44 tackles including a whopping 25 solo tackles and led the team with 3.5 sacks. He also recorded 7.5 tackles for loss, 2 forced fumbles and recovered two more.
His place in Kines' defense became more focused on pass coverage as opposed to rushing the quarterback, which held him back from doing what he did best, being a pass-rusher. He had to be disappointed with his new role because in the final seven Big-12 games of his sophomore year he came up with just 8 tackles.
Things did change for Von in his junior year though as he was put in what they call a "jack" position. His role on the defense turned into a defensive end/linebacker hybrid enabling him to utilize his pass-rushing skil ls.
Enter his breakout season as a football player.
Miller led the nation in sacks (17) and ranked fourth in the nation with 21 tackles for loss. His highlighted efforts led to him being named first-team All-Big 12 at defensive end and was also named to first-team All-American by
Sporting News
and
Sports Illustrated
.
Von became the first Aggie to be named a first-team All-American since Jason Webster in 1999, (a ten year span).
And a year before the football team got a new defensive coach, Joe Kines' was bold enough to compare Miller to the late Kansas City Chiefs star, Derrick Thomas, in the way he played football. Miller was then inspired to watch tape on Thomas and study how he played the game.
In Fall 2010, the Aggies had a new defensive coach in Tim DeRuyter. Von was once again moved to a different role for the defense, this time he became an outside linebacker in DeRuyter's 3-4 defense.
Early on in Miller's senior season, he suffered an ankle/foot injury but soon recovered enough to return to the field. And although he basically played on an injured ankle/foot his whole senior year, he came back with a vengeance.
He posted 10.5 sacks and 17.5 tackles for loss. With those stats, he received his second first-team All-Big 12 honors and won the Butkus award as the nation's top linebacker.
In addition, Von also received his second first-team All-American honors, which came from ESPN.com, Walter Camp, Scout.com, Pro Football Weekly and the Associated Press.
So in his last two college seasons, his stats add up to 27.5 sacks and 39.5 tackles for loss, leading him to be the top pass-rusher coming into the 2011 NFL Draft.
Prior to the draft, which took place just shy of a week ago, he was named Defensive MVP in the 2011 Senior Bowl, which showcases all the major college talent from around the nation.
And among all the linebackers at the 2011 NFL Combine, he posted these impressive stats:
1st in the broad jump
1st in the 60-yard shuttle (done in a record-breaking 11.15 seconds for linebackers at the Combine)
Tied for 1st in the 3-cone d rill
2nd in the 40-yard dash
3rd in the vertical jump
and 3rd in the 30-yard shuttle
Not too shabby at all for a 6-3, 246 lb linebacker.
In March 2011, at the Texas A&M Pro Day, he ran a 4.49 40-yard dash.
Just barely a week ago, the draft took place and while a lot of people thought we'd go after Marcell Dareus or possibly Patrick Peterson, the Broncos' continued to surprise with the choice of Von Miller as the 2nd overall pick in the draft.
I can't really argue with t he choice seeing as how it wouldn't hurt us at all to put more pressure on the quarterback. We do have the Sack Master of them all in Elvis Dumervil, and heaven forbid this happen again to us, but in the case of what happened to the sack happy Elvis last season, it wouldn't hurt to have a back-up pass-rusher... especially with our sad little defense that it is right now.
And so now, sadly enough this brings me to the main event of this off-season... the horrible thought of not having a football season.
This off-season has been plagued by the NFL Labor Union talks with the Player's Association (a.k.a. Stupid Union) and it has been, without a doubt, a hard thing for all the owners, teams and players (incoming & current) to deal with. But I would have to say it's been more so for the fans, for the thought of no football season in just a few months is incomprehensible.
And while both sides argue and put off reaching a compromise in the near future, some current NFL players have talked incoming rookies into joining the lawsuit the players are bringing against the NFL.
I mention all this because one of my least favorite players, LaDanian Tomlinson, did just that to our first draft pick, Von Miller.
So when time came for the Broncos to announce their pick at #2 in the draft, it was in my opinion, a bit awkward for the commissioner and Miller. However, the announcement of Miller being chosen as the newest Denver Bronco, seemed anything but awkward as the two not only shook hands but hugged before the packed crowd at Radio City Music Hall and cameras.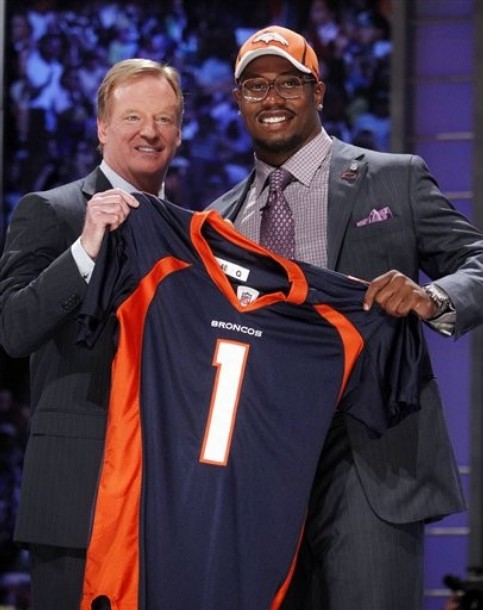 One can only hope that a now player of ours won't be distracted by the lawsuit he's apart of against his own team and t he entire NFL.
Miller also became the highest selected linebacker in the draft since LaVar Arrington was selected at #2 by the Washington Redskins in 2000. And he became the highest selected Aggie since Quentin Coryatt was selected 2nd overall back in 1992.
Hall of Fame quarterback and now Vice President of Operations for Denver had this to say about choosing Miller at #2: "(Miller's) a type of guy that comes around every 10 years."
Clearly Elway and the other 2 stooges in the Broncos' front office see something in Miller that Jazzy doesn't. haha
And so while the NFL and the players continue their childish drama of who's right and who's wrong and who should give in first, I try my best to look past it all and think of all that could go right for the Broncos this season now that we have made some major adjustments in the organization.
1) Got rid of the narrow-minded completely insane "coach" Josh McDoh-I-don't-have-a-clue-about-coaching-a-Pro-football-team-without-completely-imploding-them.
Check.
2) Got rid of "Mr. All-I-think-about-is-Me, Myself & I", Brandon Marshall (One of only 3 things McD ever did right for Denver)
Check
3) Drafted Tim Tebow (Denver's new face of the franchise) and a team of people that will back him up when he gets the chances to prove himself worthy of a starting job.
Check.
4) Hired a new head coach with a lot more potential at success in Denver, John Fox.
Check
5) Denver hired THE Hall of Famer & my hero, John Elway, as VP of Operations for the Broncos.
CHECK!!!!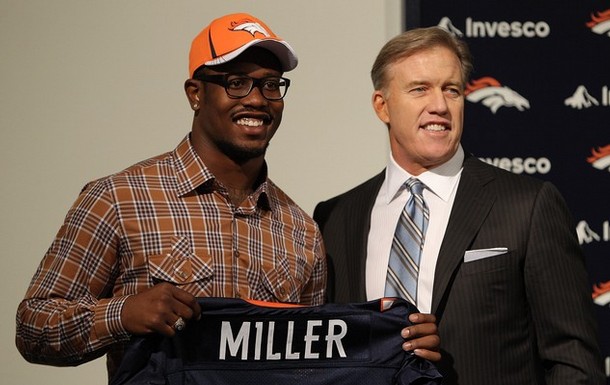 6) Resigned Champ Bailey to a new contract (thank God).
Check
7) Drafted an optimistic group of players in this year's draft that all deserve a chance when the time comes (even from fans, that means you Jazzy) :p
Check
And in just a few short months, all citizens of Bronco Country will get to witness, enjoy & revel in the induction of the very much loved & respected Shannon Sharpe to the NFL Hall of Fame.
Check, check, check !!!!
Furthermore, while I'm on the stay-optimistic bandwagon, with time, we will have Dumervil back in top shape ready to wreak havoc on all quarterbacks... my money is on this guy to plow Cutler into the ground when we take on the Bears, I cannot wait for this game to roll around!)
I look forward to seeing what our new additions will bring to this team and what success we can have with our new coach.
Welcome to the team Von Miller - it's Millertime in Denver! ahaha
***
Here are a few highlight videos about Miller. Turns out there are a lot of videos on him so I only posted a few. Also I think its in the first video, in some parts its hard to tell which one is him but I figured out he was #40 at Texas so, there ya go.
Von Miller Texas A&M Highlights
Von Miller hits Adam James, Ouch!
Von Miller Butkus Award Winner 2010 Highlights
Draft Preview: Von Miller
Von Miller Skills Competition 2011