It is time for me to put up my mock draft. It is full of twists and turns and a whole lot of craziness. Good luck understanding all of my thoughts as I changed this constantly, editing different section at a time so it may not line up. But I hope that some of the information I provide is useful and insightful to you guys and gal. Enjoy...
This year's draft will be dominated by defense players as teams move towards trying to prevent offenses putting up big points. Luckily this draft is heavy with defensive backs and defensive lineman. There are no real stand outs at linebacker (other than maybe Miller and Wilson) but there are a number of serviceable players at the position in later rounds.
When making a mock there are a number of things I like to take into account when looking at picks. These are the types of things General Managers and Head Coaches look at. This is looking at the current roster and trying to think like the coach. To see what he is seeing with the roster and the needs that need to be filled. Also knowing what is available in the open market (Free Agency) and possible options there. What is available in the following years draft needs to be taken into account so you can know what players you can target. There is the need to take into account what your competitors are doing, who they are picking and their needs and what you will be facing next year in the division (say the Chiefs get Jones or Green, we may need a corner). There is also the need to understand the scheme and what the coaches like to do with their players. Finally when picking picks it is also about maximizing what you have and the combination of players you can get with your draft.
Let's start with the roster and look at the needs for the team. There are a number of holes in the roster. On defense all three levels could do with an impact player and an upgrade of talent. For offense we are better off, but need a run blocking/pass catching TE, speed back (change of pace back) and offensive tackle if Ryan Harris is not retained (depth on the OL is also an issue). Using these needs let's look at the current roster and try to get into the heads of Elway, X-man and Fox or EFX.
Before we start there is something that needs to be taken into account with this kind of analysis. That is Head Coaches and personnel men are cocky and egocentric. Another man's trash is their treasure. For example Shanny brought in Jamarcus Russell for a workout even though he saw him failing first hand. It is the reason that after the Jets cut Gholston he will be signed by someone else. NFL management look past previous poor play and see what they can be. They back their ability to turn and mold that player into something better. That being said let's finally look at the current roster.
We will start with defense as we have needs at many if not all positions, plus we need to think of this defense as that of a 4-3, which Fox will be implementing. Starting with the defense line and defensive ends lets being. The current players on the roster that will play DE in the 4-3 are Elvis Dumervil, Robert Ayers, Jason Hunter, Ryan McBean, Louis Leonard and maybe Kevin Vickerson a little. Elvis Dumervil would be a lock at one DE spot but who could play the other? The idea would be Ayers and Hunter battling it out for the other position at DE and I personally think that is an good idea as Ayers is very strong against the run, as is Hunter but he has a little better record as a pass rusher. This would offset Doom's terrible run defense. If I am Fox I would give these two the chance to excel and feel I could mold them into good players. Give Ayers a year in a new position and see if he is the solution if not, Hunter and others could provide solid depth for the year.
Looking at this as X-man I would see heavy money already invested into this position, a former first round pick and then Doom's contract. That is a lot of money locked up in DEs. Spending picks and money elsewhere would be preferable. Ryan McBean I see as being too slow for the outside position, he could slide down the line into the middle as a DT if the coaching staff thinks he can do that. They probably keep McBean as a backup. Leonard is an unknown, he was brought in though as a big 3-4 DE so I don't see him staying. Vickerson would be a DT but could play a little DE.
Verdict:
Got some solid players that we will let play and see what happens. A later round flier on a DE or FA could be an option.
Next up the Defensive Tackle position. The current players on the roster are Kevin Vickerson.... and Mitch Unrein. Vickerson could get a starting position but I think Fox may think about upgrading this position. Anyways Vickerson could provide good depth. Fields (not signed) is interesting, I have a feeling he may be kept, his size and experience may interest Fox but if not he is gone. Marcus Thomas will test the open market but I think he may stay as depth/rotation player just because he is playing his nature position. Plus his athleticism and speed will intrigue Fox. Mitch Unrein is the unknown of the group. McBean may play some DT if not cut.
Verdict:
We have Vickerson and that is about it, we need a few depth players but another quality starting DT is needed at the very least.
On the list next is the Linebackers and I will do these as a group. The reason being a number of existing LBs have been moved to DE. The LBs on the current roster are Mario Haggan, DJ Williams, Wesley Woodyard, David Veikune(who also could go back to DE), Dominic Douglas, Braxton Kelley, Joe Mays and Lee Robinson. This will be an interesting group depending on how Fox uses and plays these guys. Some have suggested that moving DJ Williams back to the Weak side LB position or the Strong Side LB position. The problem is that these positions could be filled by other current positions. It is about getting the best combination out of the players. I feel that Williams for this season will stay at MLB unless we pick someone up and move him back to WLB. Haggan can play the SLB and Woodyard could play the WLB otherwise. I like Mays as a LB but he struggles greatly in coverage and he would be terrible as a MLB, Mays would have to really step his game up and learn to cover before we even think about starting him. In the 3-4 we can manage to hide this problem by having Woodyard or Williams covering for him. He is a back up and special teamer until(if) he learns to cover. That leaves us with David Veikune, Dominic Douglas, Braxton Kelley and Lee Robinson. Veikune could be interesting and probably will get a backup role. The others though probably won't make the team other than special teamers and practice squad players.
Verdict:
Is a solid group there but depth is an issue and no stand out, amaze me type of player. If DJ is going to be moved back to the Weak side a starting ILB is needed. A new starting SLB is also an option as I can see Haggan being traded, maybe to somewhere like the Texans or the Skins.
Finally on defense the secondary, let's start with the corners. On the roster we currently have Champ Bailey, Andre Goodman, Perrish Cox, Syd'Quan Thompson, Nate Jones, Cassius Vaughn and Chevis Jackson. There is so much uncertainly around the CBs. Champ Bailey will be back, but Cox is facing chargers, he may go to prison or could face a suspension from the league. Andre Goodman has been injured and his play has slipped. The question here is what do the Broncos do? Other than Champ would do you do? Cox and Goodman are solid starters but both have to be on the field. Nate Jones should be cut but will probably stay because of his 'versatility'. Thompson I think has locked down that Slot/Nickel/Dime spot and Vaughn will be retained as special teamer and kick returner. Jackson is the unknown of the group and will struggle to make the team.
Verdict:
Depends on Goodman and Cox, if Cox goes to jail then we can probably cover his spot but we are light on in the way of starting corners. And if Goodman is injured again we are screwed. FA or the draft need to be used to address this position.
Time for the safeties. The current roster of safeties looks like this Renaldo Hill, David Bruton, Brain Dawkins and Darcel McBath. This is the biggest area of concern, Dawkins is old and there is no certainty that he won't retire. I think with a good front 7 Dawkins can still flourish and show some passion, but I ain't holding my breath. Hill has been ok/average I think he stays but an upgrade at his position is needed. Darcel McBath could be a starter if he can stay healthy. If he does I can see him taking over one of the safety positions. Bruton is the one that interesting me the most. He has talent but stiff hips, he made one bad play and caught burned (pretty sure Josh Barrett did that against the Panthers) and people want to get rid of him, the game before that he had a blinder. Bruton stays,
young and talented players are not just cut, they are developed.
Man I miss Barrett.
Verdict:
I think we could keep all these guys, but another young and talented player is needed if the others don't work out, two if Dawkins retires.
Think about it this way, with all the uncertainty about Dawkins, Goodman, Cox and Hill they could all miss time and that is almost all the starters in the secondary, this issue will need to be resolved and soon hopefully.
Now to the offense side of the ball, picks on this side of the ball are not as badly needed as defense but there is room to fix up some holes.
First RT, this only becomes a need if Ryan Harris is let go, which would be terrible, in a ZBS Harris is one of the best (if he can stay healthy). This can be solved through Free Agency or a late round draft pick. Plus we need depth, if Clady goes down who plays LT?
Next up is the running backs. We have guys like Moreno, White, Ball and Bucky. Moreno is the main guy, White should be the bruising back if he is healthy and Ball is serviceable. Bucky I think is gone because of his age, though he may have played his way back into a limited role at the end of last season. A real quick smaller change of pace back could be used to help create miss matches, but this would be a luxury pick. An option in FA is also possible.
Tight end is up next and a pass catching TE that can also block has been suggested. Problem is Fox only really uses blocking TEs and we only have Quinn at the moment. Dan Gronkowski was improving before his injury and could get a look at the position. An undrafted or cheap blocking TE will be picked up either late in the draft or FA.
Finally I come to FB, not a need, more of a luxury pick than anything else. To be honest I like Larsen, I think he should get a few more touches. The guy knows how to pick up the first down. The only way I see us getting another FB is if Larsen is cut which I doubt because he is such a good special teams player. Would like to see Larsen get a look at LB, but he was better suited to the 3-4. If he changes position then FB is needed.
Available Free Agents.
There is a good list of Free Agents available this year and if (when) FA starts the Broncos could be in play for a few guys. There are a number of good QBs that could be looked at. If the Broncos trade Orton or cut Quinn and make Tebow the starter a backup veteran QB will be needed. Guys like Bruce Gradkowski will be interesting to have a look at, plus there are a number of other serviceable QBs available.
There are a number of good backs that should be looked at instead of drafting guys. Players like DeAngelo Williams, Ahmad Bradshaw, Cedric Benson, Darren Sproles, Ronnie Brown, Michael Bush (though he got arrested) are there and should be looked at.
Solid group of tackles and guards available, like Jared Gaither or Carl Nicks. Depth players and a possible starter can be found from this bunch.
In Free Agency there are a lot of good players available for the defense side of the ball. There are guys like Mathias Kiwanuka, Charles Johnson, Ray Edwards at DE and the same can be said for the DTs. Keep an eye on Kris Jenkins, he has played for Fox before. We lack depth and good players on the DL, I expect a few to be drafted and one or two to be signed in FA.
If we don't pick an ILB in the draft I can see us going after one of the older vets for the position in FA, Stephen Tulloch is by far the best and I like him. But Barrett Rudd is an option, guys like Rocky McIntosh or Paul Posluszny (if let go) are an option. James Anderson is in play as well but the Panthers will want to keep him. There are a number of guys that can get it done, I expect one or two LBs to be bought in to fill out corps. If we don't pick any LBs we will need to find starters from FA.
There are also a lot of good corners that can be had. Ike Taylor, Brett Grimes, Richard Marshall are all available and if Cox and Goodman don't work out there are options. At safety there are players like Roman Harper, Dawan Landry, Bernard Pollard another solid group. If not addressed in the draft I can see one of each being picked up.
The next thing to do before starting the mock is to have a look at next year's draft. This is hard to predict and a lot of things can change in a year but there looks like there will be a solid number of good quarterbacks, offensive tackles available plus some stand out corners, inside linebackers and defensive ends available next year.
With good spending in FA and a solid draft I can see us having a power house defense in the next few years, if not this year.
Division Rivals
We have three and we all know them, the Chiefs, Raiders and Chargers. Against all three this year we struggled against the run and we know we have to address our run defense. But both Cassel and Rivers had big games in the air against us, though that was mostly the number 2 corner or the under routes to running backs or WR in the LB corps. This will need to be fixed. Offensively we struggled to run against these guys. We struggled against the blitz coming from the second level against the Chargers (Phillips).
The Raiders don't have a first round pick but need help on the OL and at the QB position. Expect them to draft a WR and RB that has speed and talent, especially if Bush leaves. Corner is also a need for them.
The Chiefs need a NT and Phil Taylor is in play for them, we need to hope Walton is up to the task. OL help is needed. A solid number 2 receiver for Cassel is a must. Plus some defensive help, an OLB or DE to help Hali with the pass rush would be much liked.
The Chargers have a strong roster, it really depends on who leaves. They may need RBs or WRs or safeties. But I expect the Chargers to get some LB help, most likely at ILB.
So simple, stop the run, run the ball and protect the passer and we should be one up on these guys.
Scheme
We have talked a bit about the scheme that Fox runs. His offense is more of a two TE, two WR with a RB scheme. Rarely goes to the 4 wide and uses a running back committee. His TEs have to block and well. But McCoy will call plays, don't be surprised with Royal and Decker on the roster to see a number of 3 and 4 wide sets with Moreno catching out of the back field. Main thing to take away from this is that Fox is not a big user of TEs. But if he had a good one he may use him.
On defense Fox uses a 4-3. His DTs are usually bigger (up in the 330 range) with athleticism to get after the passer. His DEs have normally been bigger than other 4-3s like the Bucs. Use a heavy 270+ DEs, think Julius Peppers and Charles Johnson. With the bigger boys up front Fox likes to use smaller fast linebackers, like Jon Beason, that can tackle and cover the entire field, no idea what he would do with bigger linebackers with the speed of smaller guys. His secondaries have never been amazing, just very solid. Question will be Dennis Allen's influence on the defense. With the Saints they use creative blitz schemes with blitzs coming from the third level, from Safeties and corners, where as Fox wants his guys to play in a zone. Will be interesting to see what happens on that side of the ball this year.
Mock Draft
Finally we get to the mock draft. This has changed a lot me over the past months and keeps changing. But these are the thoughts and ideas I have been having. Also if you skipped the other bits and came straight here, shame on you haha.
The Broncos have the 2, 36, 46, 67, 184, 194, 246 picks as it stands now.
Having looked at the prospects over the last few weeks I have found that there is value for DEs in the 1st, DTs in the 2nd round, value for Safeties in the 3rd and value for Linebackers from the 4th onwards. Value for OTs, mainly right tackles, is in the later rounds from the 4th onwards.
First we need to look and guess what the Panthers do at number 1 and know what their needs are (plus Fox probably knows this better than most). There are only three options I see the Panthers having. They are going Quarterback, do they like Newton or Gabbert? Picking a WR for Clausen, AJ Green, or going defense and picking Nick Fairley, Dareus or Bowers. All three are possible options but for this I say they don't draft Gabbert and go one of the others. Which then means EFX can do what I want which is they decide to trade down!
The Panthers pick say Newton or Fairley, most likely Newton. This leaves Gabbert still available. A team that needs a QB and thinks the Bills could be going QB wants to jump ahead of them and get Gabbert. My choice is the Titans at number 8. The Titans have got rid of Vince Young and have a new Head Coach, new coaches mean new schemes which generally means new QBs. They have Collins but they like Gabbert as the future, he is everything that Young wasn't. Even with Collins it could mean Gabbert sits a year or two. Anyway they trade with the Broncos for number 2 moving the Broncos all the way back to number 8.
Note:
For my mock I am not sure what to think about the CBA. I am going to provide both examples on scenarios that may happen if the lockout is lifted or not. But this doesn't mean I will trade a whole heap of players for picks. I am thinking about this realistically and going to say that there may be a player involved in the trade down and probably Orton as the only other trade, that is for later though.
The trade with the Titans will be our 1st, number 2# for the Titans 1st, number 8#, the Titans 2nd rounder, number 39# and a maybe a player, I like Jason Jones or Will Weatherspoon or Tony Brown. (Brown and Weatherspoon have both played for the Panthers, Fox drafted Weatherspoon) For this mock though we take the 3rd rounder the Titans are offering.
I think 8# then becomes the perfect position for the Broncos, we could take Miller or Peterson if they fall this far, as well as Bowers, Fairley and Dareus, if they get here. But the two players we are targeting are JJ Watt and Tyron Smith. Both of these guys of course are also slated to go to Dallas at 9 one behind us, so again 8 is the perfect position. Tyron Smith is a freak, has played RT for the last two years. If Harris isn't retained or doesn't come back I think Smith is realistically the pick and fits perfectly into our ZBS/Power system. But for this mock draft and in my fantasy world we decide to go defensive and the pick is JJ Watt.
With the number 8# pick in the draft the Broncos select JJ Watt, much to the dismay of Jerry Jones (who dies of a heart attack due to shock of losing his guy to Elway haha) and X-man who can't believe they are spending so much money on DEs (the numbers! What about the numbers!). Watt is the perfect LE in the 4-3. He can hold up in the run and provide the pass rush against the bigger right tackles. On passing situations he can be kicked inside to DT and Ayers can be brought onto the field at DE. For Wisconsin Watt was rotated through all four DL positions in an attempt to create mismatches and Watt wrecked havoc by doing so (in other words he is 'versatile', the NFL's favourite word). I also have a bad feeling that Doom will be suspect in the run defense and struggle to get sacks in the 4-3 (Don't believe me? Ask me why and I can explain my thoughts). Which will mean we need another solid DE and that will be Watt, who with Ayers and Hunter can be a solid group of DEs. Crazy thought if we take a DE could you see Doom playing the SAM linebacker position?
Note:
I also preferred this option of Watt & Wilson than Miller and say a 2nd round DE. I did not see a combination of changing players that I thought would have the same impact as Watt/Wilson then Miller and another player. I like Miller a lot but for this Watt & Wilson was a better fit for me than Miller and 2nd round DE. After the first round DEs the rest are terrible in this draft. Reed is ok but is not amazing.
Watt for me is the closest thing to resembling a former second overall pick taken by Fox and that was Julius Peppers. Watt may not have the freakish ability of Peppers, but he goes close, has very similar size and agility as Peppers. Didn't produce like Peppers did but Watt decided not to return for his senior year. He could have built up his production a bit more if he had. Plus he is still learning the position after making the transition from TE. I think Fox may see Watt and may see a harder working version of Peppers with a little bit less Athleticism.
Plus have you seen this guys shoulders? He is a huge human being.
If you were paying attention above then you will know that the Broncos next pick will be Martez Wilson. With the 36# pick in the draft the Broncos select Linebacker Martez Wilson. Wilson I think fits in perfectly with the LBs that we have and will get a chance to start at SLB and maybe ILB, but I think he is best suited to play the SLB. Here he can use his pass rushing abilities, has the size to be a force in the run game and can cover. And it allows him to develop his knowledge of the game. If you threw him in at ILB he would struggle making the correct reads and running the defense. At SLB we hide this concern and let him develop into the dominating player I think he can be.
Isn't the prototypical short and fast LB of Fox's system, but I have a feeling he will over look his size as he is a speedster and will be able to get it done in this system.
The only concern with this pick is the neck injury. It worries me since we had another Wilson struggle with neck injuries. But since he played a full year and if he is cleared medically I think he will be one hell of a player.
The plan is that in next year's draft we are in a position to take one of the top two ILB. Wilson at SLB, DJ at WLB and then Burflict or Manti Te'o at ILB would create a fearsome Linebacker corps. For this year I think we take a later round guy in the hope he works out, if not I expect ILB to be addressed in the first round next year or FA.
Also have you seen his scare? It is bad ass.
The next pick we have is number 39# (from the Titans trade), I think this would be the pick we trade back to pick up extra picks. I think the Seahawks are the perfect candidate as they will need to trade up from 57 to get a look at the QBs early in the second (say Mallet). They trade their 2nd (57), 4th (99), 5th (156), 6th (173) and a future pick for our pick 2nd rounder 39#. That still leaves the Hawks with a 5th and 7th in this draft.
Moving on and the next pick the Broncos have in the draft is the 46# pick in the second round. And it is time to sure up the front 7 with getting that DT to play next to Vickerson. At this pick there are possibly four or more DTs that could be picked. They are Drake Nevis, Stephen Paea, Marvin Austin, Corey Liuget and Muhammad Wilkerson. Two or maybe three of these guys could go in the first round but at least one of them should be there and available to pick. The order I like these guys is Paea, Liuget, Wilkerson and Austin. I like Liuget, he would be a dominate force in the middle allowing Ayers and Doom to go wild but looks like he is a first rounder as the top DT after Dareus and Fairley. Wilkerson is like Dareus but with slightly more athleticism and length, plus he should go in the first. Leaving Paea who is a shorter DT but amazingly powerful. His knee injury will turn a lot of teams away and there may be the issue of him regaining his previous form, as your explosion through the legs is very important to a DT, but I think he will still be there. Austin who has really turned it on in the last month, he is a real boom or average pick tough.
Therefore with the 46# pick in the draft the Broncos select either one of these three, it will be Liuget if he falls. But I don't see that happening. Fox isn't a fan of Paea's athleticism so he takes Austin. Austin is a big DT who could have gone in the top 15 if he hadn't been suspended the year. His teammate's great play could be put down to his disruptive play in the middle of the field. Austin will be a huge steal when we look back on this draft. He will be a good DT and will get help from guys like Watt and Wilson taken before him. There is just something about Austin that screams to me that he is the Fox type of DT, is a match made in heaven.
His main concern was what he did in college to get suspended. It looks like Austin has turned it around though, seems to have matured having the year off and I think could be a better player for it.
The Orton:
Now this is the point you are probably think 'What about that Orton trade' well this is where it comes in. I think Orton will go to a team that is ready to win now, a team that needs the QB to get them over the edge. There is only one team in the league that I think could be in that position. That is the Vikings. I envision Orton being traded to the Vikings for draft picks but probably not in this draft. The Vikings will keep their 1st this year and their 2nd, they will trade us a future pick from next year's draft. We are asking for a 2nd rounder for Orton, a 2nd rounder in this draft is worth a 1st in next year's draft (see Phonzy Smith trade). The Vikings believe that they are playoff bound, maybe even Superbowl bound so they trade their 2012 1st round pick to us on the believe that it will be a late first rounder. This would be good business by the Broncos as it gives us a lot of ammunition going forward, much like what the Patriots do every year.
The next pick in the draft is number 57# and it would be the hardest out of the lot, the Broncos need safety help in a bad way. But at this pick they could go another DT or LB. Foster is an option so is Bruce Carter. Safety is the biggest need but we like some other safeties later so we look at a few other players. The players I would target here are Mikel Leshoure RB, Ras-I Dowling CB and Marcus Gilbert OT, and in that order. Gilbert is a Right Tackle prospect that could come in and start right away. He is also the former teammate of Tebow and knows how to protect him. This is a bit of a reach here and there is value for Tackles later in the draft, so I say we pass on Gilbert. That leaves Leshoure and Dowling. If Leshoure falls this far he will be the pick for sure, fits perfectly into Fox's system. But unfortunately he doesn't make it this far. Leaving as going Dowling at CB, not the biggest need but there is age in the secondary and we need to get at least one corner.
Dowling I like, he has great size and above average speed, has a long history of getting intercepts too. With work could be a starting corner, reminds me of Cox a little but with less problems. And in the second is good value, has had leg injuries this year which have limited him, otherwise he would have been a first round pick. Is a good fit for a zone team that runs a Tampa 2 style defense (which Fox does). He ran in the 4.37 and 4.42 range at his pro day which is good enough for a starting corner. But needs some work and is a bit of a project but I think he can help out our team. Especially when Goodman is gone, Jones is gone and Champ is at Safety. Check out the Corner Prospects for more,
click here
Pick number 67# is up next and it is time to address the safety position we either choose between Tyler Sash or Robert Sands. Sash is the more consistent player but Sands is a freak at 6'4-5. The Broncos like Sands better because of his upside and make him the #67 pick in this draft. The PREDATOR!
Here is a bit about the Predator. He is tall, wiry but strong. Has speed to reach either sideline to prevent big plays. His length affects passing lanes on the blitz and running down the seam. Plays with attitude on every snap. Likes to make the big shoulder-first hit and churn his legs to stop ballcarriers' forward progress. Covers running backs on wheel routes and can handle tight ends in man coverage. Aggressive filling to stop the run, attacks plays behind the line when playing the box. Long arms allow him to wrap up most ballcarriers when technique is good. Fair ball skills and straight-line speed to intercept jump balls and late throws over the middle. For more check out the safety prospects,
Click Here
We need the Predator on our defense. I really like this guy as a safety in our system. He is tall and rangy allowing him to effect passing lanes. Is really good in the deep and playing zone which is what Fox asks of his Safeties/DBs. He does have stiffer hips and struggles in man which has some saying LB would be better for him. But like I said Sands in our system and with work I think he can be one of the better safeties in the league. I like Sands late in the 2nd but if there in the 3rd then jump all over him. Plus look at him, he is a badass mofo. PREDATOR!
The next pick we have is number 77# in the third round. Again I think we are going DT and getting one of the bigger boys that Fox likes in his system. The two I think that we will target are Kenrick Ellis and Jarvis Jenkins. Both have strong points and weaknesses but it really comes down to what Fox would prefer. For this I say he picks Ellis.
Ellis is an intriguing prospect who could develop into a complete starting defensive tackle capable of clogging up the middle, making plays in the backfield off penetration, and collapsing the pocket. Has a pretty rare combination of size and explosiveness. Can be disruptive with his power or quickness. Counters and the screen game can be used to beat him at times. Plays with some fire and has a solid motor. Is a project player though, is going to need some work for the pro level, but I have faith in Nunnely's and Fox's ability to get the best out of him. For more information on Ellis check out the defensive tackle prospects page,
DT Prospects
The next pick is in the fourth round and it is number 99# I see two options in this round and it will either be ILB or OT. If Casey Matthews is here in this round he will be the pick he fits the system well. Not the most athletic but his measurables lie about his football speed which is much better. If not available the other options could be Colin McCarthy or Ross Homan. The offensive tackle prospect I like here is Joseph Barksdale, but he isn't my favourite option. I say we get lucky and Matthews falls to us.
Casey is intriguing, many will believe that he should play the weakside position because of his size, but he is too slow for that position for my mind. The best position for him would be at inside linebacker. Where he can be off the line reading the play as he has great intangibles to make the play. His intangibles make him a faster player then he was timed. I was not impressed with his hand size and shoulder problems though at the combine. But he is a football player, may not have the measureables but like his brother they are just players. He will be taken on day 3 hopeful and by us.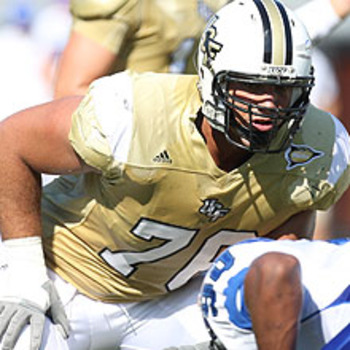 The next pick will be in the fifth round at number 156# I think it is possible we go back to back picks on ILB prospects, especially if we don't get Matthews and pick one of the others. There are two linebackers I like in this round. They are Lawrence Wilson, who fits very well into our system and Herzlich, who I think can be a great player. But since we got our guy Matthews in the previous round we target an Offensive Tackle prospect and I like Jah Reid as a RT in the ZBS who also has the size to push the pile.
Reid is a big guy, has good arm length but his arms are a little small for a guy of his size, you would expect them to be bigger. Hasn't had any injuries in his career and played for 3 years on the right side. I think he has a lot of upside and can start in the league. Has to work on his technique but he has the work ethic to get it done and get better. And if he is available here in the 5th round I say jump all over him even if Harris stays. Provides great depth at the tackle position for us.
In round six we have gotten two picks, number 173# and number 189#. For this round I think we take some prospects on the offensive side of the ball that we think can help this team. The first is the speed back/change of pace guy. For me this pick has to be Noel Devine. He is a smaller guy at 5'8 and 179 lbs but he has so much speed, posted a 4.26 at his pro day (sorry Al). I like Devine very much, I think he has cleaned up in the last few years but there is that character concern. Played with a toe injury last season, which meant he wasn't as explosive or effective, but he still produced. Devine I believe is better than McCluster was last year. McCluster was the cleaner prospect but Devine is a powerhouse for a small guy. Did more reps on the bench then pretty much every other RB though giving up 30-40 pounds to them. Barry Sanders is one of his idols and he has a little bit of Barry in him, is elusive and makes people miss. Once on the outside it is see you later. I like Devine at this pick, we need to add some speed to our team. For more on Devine check out the Running Back and Tight End prospects,
RBs and TEs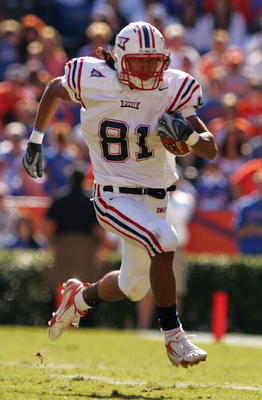 With the other pick in the sixth round (189#) We pick a TE, Julius Thomas is an option but my favourite pick would be Rob Housler and I say we take him. Struggles in the blocking side of being a TE but is a great pass catching TE. Reminds me of the TEs that play for the Patriots, even Tony Scheffler. Comes off the line real well and gets on top of the safeties fast. But is only a pass catching TE at this point in his career. Terrible on the blocking side of things, gets pushed over and struggles to seal the edge. Would need to improve this greatly to be effective in Fox's system, may need to add a bit of bulk, 10-15 pounds. But as a receiving TE he is one of if not the best in this draft. I say we take a risk on him and try to make him better and more productive. Something about him just screams big time TE, I just get the feeling he could be something special and late in the draft I say take the risk. For more on Housler check out the link above.
Our final pick in the draft is in the 7th round and I think it is around 246ish. For this many have said take the Best Available Player. But not me wahaha, there is only one guy I want and that is the Safety Chris Prosinski, who you probably never heard of. A little more on the 6-1, 210 lb safety Prosinski,
Though Prosinski stayed in his home state of Wyoming, he could have gone to schools like Boise State, Georgia Tech, Harvard and Princeton. Getting recruited by good football programs and Ivy League schools is a clue about his strong combination of athleticism and intelligence -- something his play for the Cowboys also made evident.
He received one of five prestigious National Football Foundation National High School Scholar-Athlete awards before his redshirt season, and his first year on the field saw him rack up 37 tackles in reserve duty. He then earned honorable-mention Mountain West honors in 2008 (88 tackles, three interceptions, nine pass breakups), second-team all-conference accolades in 2009 (140 tackles, 3.5 TFL, six PBUs, two forced fumbles) and 2010 (108 tackles, two INTs, five PBUs, two FF).
Prosinski's excellent pro day workout (4.39 40, 39.5-inch vertical, 4.28 short shuttle, 6.85 three-cone), in addition to his durability, intelligence and production, will help regional scouts to sell their superiors on the tough safety's merits as a late-round addition to the roster.
If it wasn't for Prosinski's impressive workout he would be at the top of the undrafted free agent class instead he will be picked late in the 7th, right where we are luckily. Some of compared Pronsinski to John Lynch, I like the comparison but Pronsinski has more speed. Would be an upgrade over McCarthy and there is hope there that he becomes a starter. Some positive and negatives are below.
Positives: Centerfielder with straight-line speed and high football intelligence. Excellent closing speed when getting to the sideline or to ballcarriers over the middle. Most secure tackler on the team when technique is sound, keeps legs moving and uses arms to wrap after contact. Also cuts down ballcarriers with his shoulder when coming downhill. Recognizes routes coming into his area and has the recovery speed to get the angle on running backs down the opposite sideline and deep throws from play-action. Breaks up passes in front of receivers, at times making the interception, without interfering. Team captain in 2010.
Negatives: Sometimes resorts to ducking his head on open-field tackles instead of staying low and square. Not an intimidating hitter. Hesitates when plays slow down instead of inserting himself into the pile to prevent further yardage. Engulfed near the line on run plays by linemen and larger tight ends. Inconsistent finding his way through trash when flying up into the box.
That is it for the draft but before I finish up and summarise there is one name I want to throw out there and that is undrafted FA Michael Morgan from USC. I think he is another linebacker we could pick up to contribute to the LB corps. That is it for prospects lets summarise all this craziness.
Summary
First I may have gone overboard with the trades but that was to make this mock draft make more sense. What you should take away from them is not the picks but the rounds and the players I chose. I believe these are guys we could be targeting in those rounds. I did the trades to show how it may be done, in all likelihood these trades do not happen. Also take away from this the prospects I mentioned but did not pick, these are also guys I think we could be looking at.
To recap these are the players that were selected in my mock:
1st - 8#, JJ Watt DE
2nd - 36#, Martez Wilson SLB
2nd - 46#, Marvin Austin DT
2nd - 57#, Ras-I Dowling CB
3rd - 67#, Robert Sands S
3rd - 77#, Kenrick Ellis DT
4th - 99#, Casey Matthews ILB
5th - 156#, Jah Reid OT
6th - 173#, Noel Devine RB
6th - 189#, Rob Housler TE
7th - 246ish#, Chris Prosinski S
Let's check the list of position needs:
Player with Badass scare, check
Player with Dreads, check
Player with Flowing locks, check
Player with Crazy eyes, check
Player with Speed, check
So on that account the mock was a great success, haha, no in all seriousness I think this mock fills a lot of needs and adds depth and talent to the roster.
I selected in total 11 players, 8 on defense (5 in the front seven and 3 in the secondary) and 3 on offense. I think it adds a lot of talent to the roster with a number of possible starters but also adds some much needed speed to the team. We pick up the 4 required starters with the possibility that all the others can start in the future and contribute in some capacity. Plus our defense gets some manly men and badasses that is need to improve the image of our defense, provide some more nasty to the team. Our defense needs to be aggressive like that of the Ravens or Steelers.
With this mock I can see us winning at least 4 more games. We have filled 4 if not more key starting positions on defense and can build on that next season. I envision a record of 8-8 give or take 1-2 games, therefore playoffs are an option. This record would put us in the position in next year's draft anywhere from 10-20 where we can get a top ILB if Matthews doesn't work out.
That is it for my mock, if you managed to follow it and understand what I did you must have a really high IQ as I didn't haha. Though most of you may disagree with this mock or think another prospect would have been better than the ones I selected. So let me know what you think in the comments below. Oh and look out for the mock competition in the next few days. ~ Aussie.