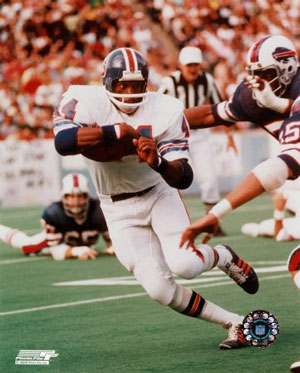 By Gray Caldwell
DenverBroncos.com
ENGLEWOOD, Colo. -- Soon, "The Franchise" could be "The Hall of Famer."
Floyd Little, one of the four original Broncos Ring of Fame inductees, was announced as a senior nominee for the Pro Football Hall of Fame Class of 2010.
The Senior Committee made its two recommendations, Little and Pittsburgh Steelers defensive coordinator Dick LeBeau, on Tuesday. Both men are automatically among the finalists for next year's class of Hall of Famers.
"I'm telling you, I'm elated," Little said. "It's just unbelievable. I don't know what to say. There have been so many Broncos fans who have been so supportive and have signed petitions and have really been wanting this to happen. I cant thank the Broncos organization and their fans any more."
From here, the Board of Selectors will narrow down the number of nominees to 25 in November. In early January the list will be trimmed to 15 modern-day finalists, along with Little and LeBeau.
Both senior nominees are voted on separately -- they still have to get the mandatory 80 percent vote to enter the Hall -- and the largest possible number of inductees is seven, including the senior nominees. The fewest is four.
"We've got another hump to go over, but in the mean time we're gonna celebrate between now and Super Bowl week!" Little said, hardly containing his excitement.
A first-round pick in 1967 from Syracuse University, Little finished his Broncos career ranked No. 1 on the franchise's all-time list for rushing attempts, rushing yards and rushing touchdowns. He played in the Pro Bowl in 1970, 1971 and 1973, and partipcated in the AFL All-Star Game in 1968 and '69.
He led the team in rushing for seven consecutive seasons from 1967-73 -- the longest such streak in club history -- also leading the NFL in rushing in 1971. During his career, the only running back to total more rushing yards than Little was Hall of Famer O.J. Simpson.
He retired as the seventh-leading rusher in NFL history.
"When I think about being drafted, I was supposed to go to the Jets, so when Denver drafted me I was thinking, "Where the hell is Denver?" Little laughed. "But it was the greatest thing that ever happened to me, being drafted by the Denver Broncos and playing my whole career there."
Little spoke about all the Broncos who played with him and after him who belong in the Hall of Fame. He mentioned everyone from Karl Mecklenburg, Randy Gradishar and Tom Jackson to Louis Wright, Billy Thompson and Steve Atwater. He said he feels both Shannon Sharpe and Terrell Davis belong in Canton, and he called President and CEO Pat Bowlen "a Hall-of-Fame owner."
"Denver has a history of great players, great athletes, who gave a lot to the game, and somewhere along the line they have to be recognized," he said.
For now, Little is the first in that line to get recognized. The man who wore No. 44 -- one of three retired numbers in Broncos history -- has a chance to be the next player to be enshrined in orange and blue.
"I'm just so happy," he said. "My wife and I are going to celebrate big time. I don't drink at all, but I might have to have a Coors."