What up peeps? What doing? Well guys with the lovely Princess out of town I am filling in. So lets hop to it then. The Denver Broncos are coming off two straight loses, but showed some fight last week coming back late against the Rams. This week the Broncos take on the Kansas City Chiefs in round two of the divisional show down. In the last 10 years of the divisional rivalry, the season series has been split by the Broncos and Chiefs seven times. In round one of this division bout, three weeks ago the Broncos came out fast and dropped the hammer on the Chiefs, scoring 35 unanswered points. It was a beautiful game to watch as the Broncos put together all 3 phases of the game. Moreno got his first 100 yard game, Orton was good, Lloyd was good and Tebow threw his first TD pass. The defense also played well, Haggan got 3 sacks and the defense scored its first touchdown of the year. That is before the Chiefs got a ton of garbage yards late in the game. And then there was the McHandShakeGate or whatever we are calling that. Which has fired up both teams, though McD tired to down play it, saying how much he respected their organisation. But I know both coaches will have their teams fired up. I think this game will really show what our team is made of and if we have something. Both teams will fight tooth and nail for this one, if the Broncos are still in this battle late and fighting tough there is real hope for this team and McD. As he would have fired up our boys to play hard and battle it out with a good team, which we haven't done recently. But if we get blown out by the Chiefs then I think we are in serious trouble. This game may make or break McD, and I don't think Tebow will be involved, much.
For the Chiefs, since their last match, they have won two straight games by a combined score of 73-37. Jamaal Charles has racked up 261 rushing yards in the process, while Matt Cassel has thrown six touchdowns, five of which have gone to Dwayne Bowe. Meanwhile, the defense has accumulated four sacks and two interceptions while holding the Arizona Cardinals and Seattle Seahawks to an average of 60 yards on the ground.
To help prepare of the game McD has said the team will work with noise elements in practice this week to prepare for playing at the New Arrowhead Stadium on Sunday.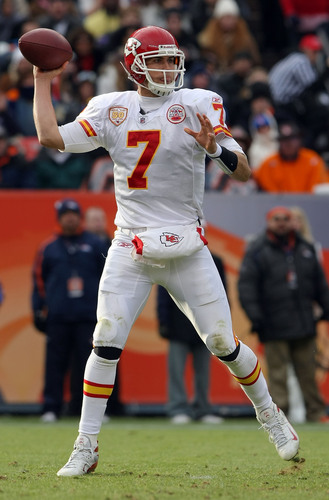 Offense
For the Broncos quarterback Kyle Orton leads the league with 3,370 passing yards, he now has 8 more than Rivers. The Broncos receivers are lead by Brandon Lloyd who has a touchdown in four consecutive games. Lloyd continues to make his case, on the field at least, to represent the Broncos in the Pro Bowl at Hawaii. He leads the NFL in receiving yards with 1,122 and is tied for third in receiving touchdowns with nine and is increasingly the top target for Orton. Also Royal and Moreno have been putting some good games together quietly. The key to this game will be the play of the offense line. If they can keep Orton up right and open holes for Moreno it will go along way for the Broncos to win this game.
For the Chiefs though Cassel has led the NFL with 12 touchdown passes in the month of November. And his top target has been Dwayne Bowe has a franchise record 14 touchdown catches so far this year. With 5 games left Bowe is set to finish off the year in a big way, it will be up to Champ to shut him down. Jamaal Charles and Thomas Jones are also big threats on the ground if the Broncos struggle to shutdown the run.
Defense
On Defense the Broncos will need to bring their A game to stop the impressive offense of the Chiefs. The secondary has to be on their game. Cox and Bailey need to play well and Dawkins needs to make tackles. The linebackers need to bring the pass rush in this game to put off Cassel. Ayers and DJ will need to be on top of their game to hold up in the run and cover the TE. The D-Line needs to be dominate and beat the Chiefs O-line at the point of attack, like they did in the previous meeting.
The Chiefs defense also has been playing well and will be a tough task to beat in this game. They have a secondary that has had some injuries recently but they are young and getting better. The Chiefs linebackers have been impressive, as have their D-line who are finally maturing into fine players
Special Teams
The Broncos special teams unit will need to be on song in this game as the Chiefs have good returners. Plus they will most likely have Dexter McCluster for this game which we did not see in the previous game. McCluster is a dynamic player and will be tough to contain.
Injuries
Three of the four players held out of practice were defensive backs: safeties Brian Dawkins and Darcel McBath and cornerback Andre Goodman. Receiver Demaryius Thomas also was out with an ankle injury. Those players are not expected to travel to Kansas City.
For the Chiefs, cornerback Jackie Bates (knee) did not practice. Cornerback Brandon Flowers (hamstring), safety Kendrick Lewis and guard Ryan Lilja (foot) were limited in practice. Safety Jon McGraw (head) fully participated in the workout.
What to play for
The Broncos have to take a look in the mirror and know what they are playing for as the playoffs are pretty much out of the picture. Each player needs to make up a decision about what they are playing for. They can play for pride or passion, they could play for the love of the game. But professionalism is the main thing the Broncos players should know. The players must know they are paid to play and they have a job to do. And some of them should realize that they are playing for positions next year as some will be let go. So go out there be professional and do your job.
Trivia Time
1) Of the eight original founding AFL teams, who were the two teams that have not moved from their original city?
2) Who from the Denver Broncos was briefly engaged to future United States Secretary of State Condoleeza Rice?
3) In 1984, the Broncos started their Ring of Fame honoring former Denver Bronco greats. Who were the first four inductees?
Just for laughs
Check out this video of Tebow is a little funny haha, http://www.youtube.com/watch?v=g7xFznOSmvY
Thats it from me ~ Aussie Out!