Hey guys and gals this is a preview I did for
the D League
website. They asked if we could put together a preview for the Broncos that they will use on their radio show. I thought it was good so I posted up here. I don't think there is anything over the top here and I think it is on par with what the rest of us think.
The 2010 season for the Denver Broncos will be very interesting as a number of different things can happen and a number of storylines to follow. This team has so many questions going into the year, or as it is better known a lot of 'ifs' about the team. A lot of 50-50 calls that really could go either way. But more on that later as it is explained in detail.
Broncos 2009 Review Summary:
First to get a better understanding of this year's Broncos let's have a quick look at last year and see where the team has come from. The Broncos opened last year with six straight wins, then lost four in a row, then won two straight, and lost four in a row down the stretch. An 8-8 record is good, but this team seemed capable of a whole lot more.
The Broncos offense scored 326 points or 20.4/game. That was good enough for the 20th best 2009 NFL offense, and even though QB Kyle Orton played well part of the Broncos struggles happened when he went down with an injury and they were forced to rely on backup Chris Simms who could be said is past it. Still Orton passed for over 3,800 yards, completed 62% of his passes, and threw for 21 TD's. On the ground the team rushed for 1,836 yards yet featured no 1,000 yard rusher, Knowshon Moreno was the closest with 947 yards on the ground.
The Broncos defense gave up 324 points. Which means essentially this team scored as many points as it gave up. Which makes sense when you finish 8-8 for the year. The Broncos defense also faded down the stretch and its age and depth came into question.
For this past offseason the Broncos would need to address the depth and youth on defense and increase the size on the lines to run the 3-4 and the power blocking schemes. Also they would have to deal with Brandon Marshall.
The Broncos draft and free agents:
Brandon Marshall the leading receiver on the Broncos team was moved due to his continuous running in's with the law and the fact he wanted a huge contract, which he may not have deserved as he generally disappears in the redzone. In return the Broncos would get 2 2
nd
rounders, one in this years draft and one in next years draft.
This left the Broncos with a hole at receiver and there were still the issues on the defense sided of the play. So the Broncos went out and addressed this situation. They signed three big defensive lineman in the offseason in DE Justin Bannan formerly of the Ravens, NT Jamal Williams formerly of the Chargers and DE Jarvis Green formerly of the Patriots. Green would later be cut by the team has he fell down the depth chart and was beaten out for a starting spot by Ryan McBean who to his credit has been playing well.
They would also add CB Nate Jones from the Dolphins to help provide depth at corner.
Leading into the draft the Broncos had made moves and let a number of offensive linemen in Ben Hamilton and Casey Wiegmann go, therefore were now in the market for a new Center and O-line depth. The Broncos where then rumoured to be targeting guys like Pouncey and McClain in the draft to help fix some holes. But no one could have picked the amount of moves the Broncos would make in the first round and the players they would pick. The Broncos picks were as follows:
WR Demaryius Thomas (1st Round, 22nd overall)
QB Tim Tebow (1st Round, 25th overall)
OL Zane Beadles – (2nd Round, 45th overall)
C J.D. Walton – (3rd Round, 80th overall)
WR Eric Decker – (3rd Round, 87th overall)
CB Perrish Cox – (5th Round, 137th overall)
C Eric Olsen – (6th Round, 183rd overall)
Syd'quan Thompson- (7th, 225th overall)
DE/OLB Jammie Kirlew – (7th, 232rd overall)
The Broncos had succeeded in upgrading the WR position by picking Thomas and Decker. They also picked up solid amount of O-line depth and tried to get younger in the secondary by adding players like Cox and Thompson. But the biggest story of the draft was the selection of Tim Tebow. I remember reading before the draft that for Tebow to be selected it would only take one GM or HC to fall in love with Tebow to select him. Well McDaniels was the one to fall in love with Tebow and pull the trigger on him. It will be a move that McDaniels has staked his job as Broncos HC on, maybe even his career.
Expert Picks:
I have read a number of expected outcomes for the Broncos and where they will finish this year and most of them have the Broncos finishing last or third in the division. With either or both the Raiders and Chiefs beating us. To be honest I find that hard to believe, I give both teams credit for having pretty good drafts and picking up solid players but I don't believe they have improved that much or the Broncos have gotten that worse to have a complete roll reversal.
I also have a fond memory of Jamie Dukes and Rod Smith talking before last season about how the Broncos would do, Dukes said 2-3 wins in the first 5 games, Smith said 5 and 0. Guess who was right? If you haven't seen it yet watch:
http://www.youtube.com/watch?v=TIiIwXJ2XOM
, proves a point. Don't sleep on any team, on Sunday two teams play giving you a 50-50 chance to win, respect your opponent or they will beat you. That is what happened last year, no one respected the Broncos and they came out and took it, to quote Brain Dawkins. The fade down the stretch killed the Broncos, but more on that later.
Team Review:
QBs
There can be no doubt that this is Kyle Orton's team. He has played well and shown great improvement from what he was at this time last year. Compared to last year it is day and night now with Orton. Look out for him and McDaniels to open up the playbook and take advance of Orton's knowledge in the system. But the depth behind him is in question, but anything is better than Chris Simms, expect maybe Brady Quinn. I don't know what happened in Cleveland but Quinn's head is messed up. He has no sense of time and gets sacked to easily. He struggles to make quick reads and is scared of failure. He did have a good last preseason game but that was against 3
rd
and 4
th
stringers. Tim Tebow is another can of worms. He has shown great improvement over the last month to give some ideas that he could be the next big thing for Denver.
RBs and WRs
There has been a question here about offensive weapons and who will score points for the Broncos. I can see Knowshon Moreno having a big year but he will be slowed by his hamstring injury. Correll Buckhalter will be solid again but injuries will slow him down. But the drop off in talent from these two is huge and could be a real issue, especially since Lendale White has been placed on injured reverse (IR). This leads to the Broncos being a passing team which could be a really good thing as the Wide Receivers in pre-season have been a bright spot for the team. And there hasn't been a big drop off from Marshall. I personally think trading Marshall was a good thing, other than he was a brat and needed to go. The fact is Orton is no longer keying to him and defenses can't double or triple team him. The Broncos attack has become more balanced. I can see big years for Gaffney and Royal. I also think that when Thomas returns from injury he will quickly make and impact and overtake Lloyd. Plus Matthew Willis and Eric Decker are both solid players that can provide something extra. Any team that can cut/place on IR a guy like Brandon Stokley is pretty strong at Wide Receiver.
TE
The Tight ends are a concern for the Broncos as they have no true pass catching TE after trading Tony Scheffler to the Lions. They have Richard Quinn and Daniel Graham, both are mostly blocking TEs though. Graham has good hands but isn't lighting quick and going to threaten defenses. The Broncos recently traded CB Alphonso Smith to the Lions for Dan Gronkowski in the hope of getting a pass catching TE.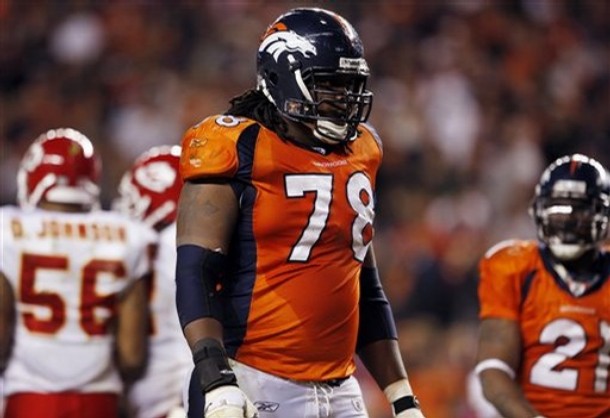 O-line
A big issue for the Broncos this offseason has been the O-line. As the three starters from last year have been off injured at a number of different times. Clady has come back and played a little in the last preseason game and should start week 1 which is a major boost for the team. But Chris Kuper and Ryan Harris two of the starts have been battling injuries. Also most likely two rookies will start on the offensive line. Zane Beadles and JD Walton will start for the Broncos week 1. Beadles will either play LG or RT depending on the Harris's injury, Walton will start at center. But if healthy Clady, Beadles, Walton, Kuper and Harris could put together one of the best lines for the next decade in Denver. The future is bright for the line which is very underrated.
Front seven:
On defense the front seven has been suspect to the run and creating a pass rush. And the lose of sack king Elivs 'Doom'ervil for the year has not helped. But big things are expected of players to step up and make a name for themselves. OLB Robert Ayers and OLB Jarvis Moss are expected to have big years to help the Broncos get by with the loss of Doom. Jason Hunter has shown some flashes and will be used and interchanged with Moss. DJ Williams and Mario Haggan at ILB are also solid players but nothing amazing. I want to see DJ step up and lead this team the way Al Wilson did before a neck injury ended his career. And with the help of Jamal Williams and Justin Bannan on the line should help keep opposing offensive lineman off the LBs. But there are issuses with depth all over the front seven. These guys will need to stay healthy if the Broncos want to be in the hunt at the end of the year.
Secondary:
Awesome, what else can you say about this secondary with two future Hall of Famers in the secondary. Brian Dawkins is coming off his best season statistically, and Champ Bailey still has it, just ask Tony Romeo. But the secondary is also backed up by Hill and Goodman, who both have been solid for the Broncos and coming off one of the best seasons of their careers. Plus the Broncos added guys like Perrish Cox and Syd'quan Thompson at CB and the depth is greatly improved. Look out for Cox to see time at Nickel and kick return this year. And the safeties are backed up by promising young players McBath and Bruton and these are the deepest positions on the team.
Special Teams:
Matt Prater I think is one of the most underrated kickers in the league at the moment. He has a huge boot and keeps getting better every year. Britton Colquitt has been a rather bright spot in the offseason and has been solid throughout the preseason.
As for returners, Cox, Royal, Willis and Thompson all look promising with a few breaking off big runs in the preseason games.
Depth Issues and Injuries:
There are some concerns around depth due mainly to injuries. There is a lack of depth across the O-line and there is a drop off on talent between the first and second stringers. Case in point, Zane Beadles, he could be playing either LG, RT, or LT depending on who comes back from injuries.
There is depth concerns at running back as mentioned before. As there are no amazing RBs after Moreno and Buckhalter. Lance Ball is serviceable but will not set the world on fire.
The Broncos also are lacking depth in the front seven. There is not enough OLBs and another injury to the group could be devastating. There is depth on the D-Line but there is a drop off in talent. If Williams or Bannan see extended periods on the side line, which could be bad news for the Broncos. The lack of depth last year is what lead to the fade down the stretch as the old players struggled with excessive work.
Credit to the Broncos for omitting mistakes:
The Broncos should be credited for sticking to their word that the best player will play and it doesn't matter where you were drafted or how much you were paid. Compared to the days of the Shannan era when he may carry some players that he over paid for, Nate Webster? So I give them credit for cutting Green who was doing nothing and trading Alphonso Smith who had fallen off the planet compared to over Broncos DBs.
The Tim Tebow factor:
The Tim Tebow factor is something else that needs to be considered when previewing the Broncos. Will he play in packages or see time in the wildcat (Wild Horse)? What sort of impact does he have on the team? I think Tim Tebow will have the Phillp Rivers affect on Orton. When Drew Brees was on the team and they drafted Rivers Brees upped his game and become one of the better quarterbacks in the league, he did win the superbowl last year. I think this could really push Orton this year, and I think people have seen that through the preseason already. I see a really big year for Orton if he stays healthy. Little running game, no big catch tight end, I see a lot of 4+ wide receiver sets. It would not surprise me to see Orton throw 4,000+ yards and have up to 30 TDs this year.
As for Tebow I think he sits this year and next and progresses just like Rivers did into a solid QB of the future
Schedule Review:
The Broncos have a tough schedule to start with, facing the Indianapolis, Tennessee, Baltimore and the Jets in consecutive weeks. But the back end of the season is easier facing St Louis, Kansas City, Arizona and Oakland in consecutive weeks. But I think the Broncos will be competitive in all the games and they should be close. The Chargers are a tough team to beat but we are always competitive against them. The only team that I think that we can't beat is the Colts, the others I believe are a coin toss and will be close games.
Conclusion and Predictions:
The Broncos I think will have a productive year and will surprise a lot of people like they did last year. The Broncos have improved from last year and upgraded key positions. I believe Orton is in for a career year and Tebow will not see much time this year. There is an issue with depth and injuries but if the Broncos can stay healthy they can put together a good year.
My prediction for the Broncos is that they will be better than last year. I can see them going 10-6 this year and getting a wild card into the playoffs. But there is so many 'ifs' around this team like I said above. So the Broncos could go anyway from 5-11 to 11-5 this year. But I edge more towards the side of a positive season and a 9-7 or 10-6 year.
Well in other news the Broncos added three players to the practice squad. Running back Bruce Hall, offensive lineman Jeff Byers and defensive lineman Lionel Dotson - filling the eight-player roster.
And a few players changed their numbers:
Kevin Alexander:
No. 58
Andre Brown:
No. 26
Chris Clark:
No. 75
Dan Gronkowski:
No. 82
Joe Mays:
No. 51
Syd'Quan Thompson:
No. 22
Worrell Williams:
No. 54
That is it from me ~ Aussie Out!